100 years: A unique milestone
With 2020 marking a 100 year milestone for Fallshaw Group, we would like to share a sneak peak into what makes Fallshaw so special ... Our people!
100 year timeline: The Fallshaw family
1920: The company was founded by Percy Fallshaw who started making wheelchairs in 1920. The workshop was based in North Melbourne and had between 20 to 30 employees. Wooden chairs, couches and carriages were made for patients, as well as performing repairs, alterations, custom designs and fitting pneumatic tyres to chairs.
1960s: During the 1960s, the company was managed by Percy's son, Robert Fallshaw. Rob lead Fallshaw for the next 45 years, under whose leadership the company expanded into making castors and developing manufacturing expertise. Building an enviable sales network, Fallshaw become one of the world's leading castor companies. Regrettably Robert passed away in 2005.
2000s: Robert's daughter, Jo Fallshaw, became the Managing Director and owner, continuing the tradition of developing innovative products, and manufacturing well-designed, cost-effective, quality castors, delivered in-full and on-time with great service and technical support. Also acquiring Electrodrive with its own proud history in design, manufacture and servicing of powered materials handling products. This has enabled Fallshaw and Electrodrive to combine product portfolios and expertise to expand into the broader portfolio of mobility solutions and products.
---
Celebrating the people of Fallshaw Group
Our team here at Fallshaw Group have helped the company to succeed and continue to grow throughout the years.
Here are a few of our longest serving staff, and their unique experiences.
Nada Simonovska
32 years of service
Nada started working afternoon shifts as a Machine Operator in our Injection Moulding plant 32 years ago and moved on to working night shift for quite a few years. Nada soon switched to day shift and became a regular smiling face among the team. It was clear Nada had potential to become a team leader, and was promoted to the team leader for the popular K Series castor assembly bench. Here she thrived for many years.
With so much product knowledge and aptitude, Nada is now our team leader for the innovative EBC and Trinity castors, one of the most complex departments and products within our range.
---
Chris Kotze
31 years of service
Chris started working as a utility worker on our H and W Series castor assembly benches 31 years ago. Chris has a versatile skill set and is adaptable by nature; he has held many different positions within the company during his time at Fallshaw and is the in-house "guru" for technical product knowledge.
Chris also works closely with our Managing Director, Engineering Manager and General Manager to ensure operations run smoothly on the day-to-day.
---
Heath Davies
27 years of service
Twenty-seven years ago, Heath came to Fallshaw via the Special Needs programme and did some work experience at the factory for one week. Heath enjoyed it so much that his parents asked Robert Fallshaw if he could work for one week of every month, to which Robert Fallshaw agreed. During this time, Heath showed great aptitude and eagerness to learn whilst forming close bonds with staff who worked side-by-side.
During this time, Heath became a full-time utility worker in the factory operating an injection moulding machine, and was in charge of greasing and loading machines. Heath now runs our wheels and bearing assembly department.
---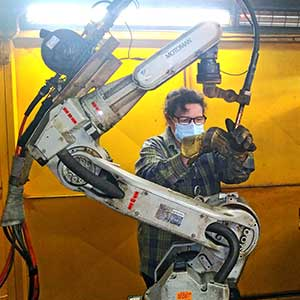 Melchora Yu
27 years of service
Mel started with Fallshaw 27 years ago where she started working an afternoon shift as an operator in injection moulding. After showing a high degree of competency in this role, Mel quickly moved to the press shop, where she worked as an operator of our Robot Welder. Mel acquired new skills in this department and now not only operates the Robot Welder, but also programs it.
When Mel isn't programming and operating robots, she also relaxes by going to the movies, gardening and listening to music.
---
Shannon Dedman
25 years of service
Shannon started working with Fallshaw 25 years ago as an operator in injection moulding (where the plastic parts of the castors are manufactured) and he then moved to the pneumatics department as a wheel assembly technician. With years of knowledge and skills, he now runs our pneumatics department and continues to apply his skills in quality assembly.
In his spare time, Shannon enjoys water skiing, movies and dining out.
---
Danica Sestan
22 years of service
Danica started as a production operator 22 years ago.
Gaining a wealth of skills and knowledge during her time, Danica has worked her way up to become a section leader, and now confidently runs the K and J Series final assembly lines.
In her spare time Danica is a keen gardener and enjoys overseas travel.
---
Kamal Dasanayaka
21 years of service
Kamal started as a die setter in the press shop 21 years ago. After showing much apititude, Kamal has worked his way up to now run the Liftmaster division where he works across our range of bin lifters.
In his spare time Kamal also enjoys gardening, travel and riding his bicycle.
---
John De Amicis
21 years of service
John started with the company 21 years ago as a press operator.
Over the years John has learnt to set presses by on-the-job training, and has progressed to the position of the Press Shop team leader, where he now runs the department.
When John isn't running the busy Press Shop, he enjoys fishing and watching and playing sports.
---
Simon Farrugia
21 years of service
Simon started with the company as an assembly worker on the H and O castor series bench.
Fourteen years ago, Simon was offered a traineeship in injection moulding as a die setter. Simon accepted, and completed his Certificate III in Injection Moulding, and is now a qualified setter. Simon is now the Injection Moulding team leader.
In his spare time, Simon enjoys sports including basketball and football.